Tobacco Enforcement Unit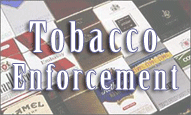 The Tobacco Enforcement Unit is charged with enforcing and implementing the terms of the Tobacco Master Settlement Agreement, the State's Tobacco Liability Act (Haw. Rev. Stat., Chapter 675), and related statutes. The Unit is also statutorily responsible for the enforcement of Haw. Rev. Stat., Chapter 245 pertaining to: Cigarette Taxation, Export and Foreign Cigarettes ("Gray Market" cigarettes), and other tobacco related statutes.
The goals of the Unit are influenced by the complexities of tobacco enforcement and regulation. As such, the Unit is faced with a formative challenge. Nonetheless, the Unit is committed to Active, Visible, and Proactive Enforcement in accomplishing its mission.
Questions may be directed via e-mail to [email protected] or via telephone at (808) 586-1203.