Local Links

Crime Prevention & Justice Assistance Division – Help for Hawaii's Crime Victims

This web page contains known information about, and pictures of, Hawaii's own missing children.
The Sex Abuse Treatment Center of Kapi`olani Medical Center for Women & Children
provides comprehensive services which address the physical, emotional and social needs of the survivors and their families.


Child & Family Service
is Hawaii's leader in non-government social and human services and advocacy for children and families in need with the primary purpose of strengthening families and fostering the healthy development of children.
Prevent Child Abuse Hawaii
is a private non-profit organization dedicated to the prevention of child abuse in all it's forms and to ensuring that every child in the state of Hawaii is able to grow up in a safe and nurturing environment. All programs are designed for the general public and center around providing parents and caregivers with the support and skills they need to perform their roles as effectively as possible.


Hale Kipa, "the House of Friendliness," has been just that to thousands of Hawaii's runaways and homeless youth who need a place to stay and someone to talk to while they work out their problems. Its mission is to provide a variety of services, including shelter, to youth in need.

AKAMAI is a community-based project spearheaded by the Juvenile Services Division of the Honolulu Police Department. This unique program consists of twenty organizations such as Family Court and the Boys and Girls Club, and numerous volunteers who provide free workshops on delinquency prevention for parents and their troubled youths.

The Boys & Girls Clubs provide a safe place for Hawaii's young people in the critical after school hours and all summer long. We offer quality programs and services to youth of all backgrounds between the ages of 7 and 17. Six (6) Clubhouses and two (2) Extensions on three (3) islands serve over 5,000 young people annually.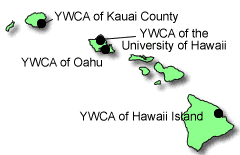 The
Young Women's Christian Association
reaches out to meet the needs of women and girls wherever they are. Its programs may be located in a center or branch building, a city skyscraper, in storefronts or mobile vans. The programs, and the locations, have changed many times over the years, but the basic purpose of the YWCA has not.