Missing Child Center Hawaii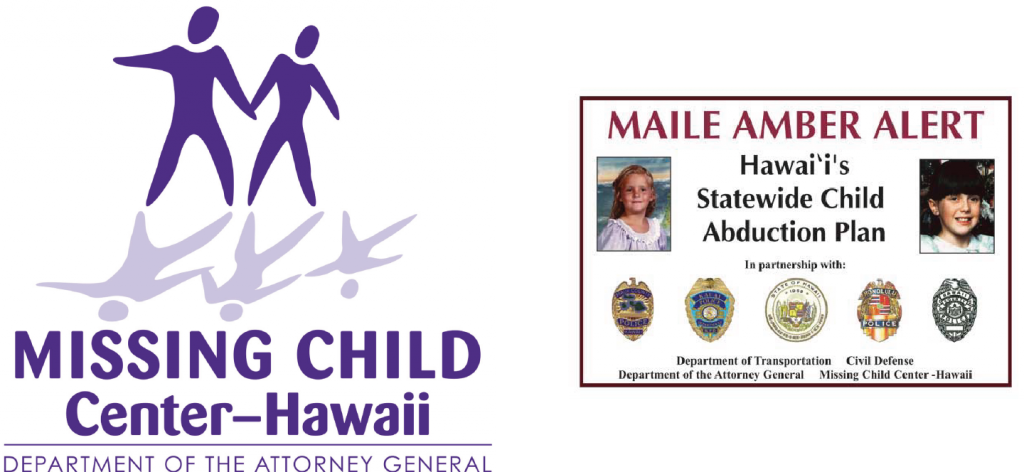 The Missing Child Center-Hawai'i (MCCH) locates and recovers missing children, reunites missing children with their families, and prevents child abductions in Hawaii.
The MCCH meets this mission by: Coordinating the efforts of federal, state, and local law enforcement agencies as well as other  public and private agencies, in the protection of children;   Developing and implementing programs that promote community awareness about child abduction; and, Maintaining a system to notify the public when a child is missing in Hawaii.
Amanda Leonard, MCCH Coordinator, provides a brief introduction to MCCH:
---
Search Hawaii's Missing Children Database
Click here for more information
---
2019 National Missing Children's Day Poster Contest
It's that time of the year again! The National Missing Children's Day Poster Contest is conducted every year by the U.S. Department of Justice to commemorate National Missing Children's Day (May 25th). This year, the award ceremony will take place in Washington D.C. on May 22, 2019 with the theme "Bring Our Missing Children Home" at which time the national poster contest winner will be recognized.
Each participating State will submit one poster created by a 5th grader in that State. Accordingly, the Hawaii Department of the Attorney General's Missing Child Center-Hawaii is conducting a statewide competition to select a poster for entry in the national contest.  The national winner, his/her teacher (or designee from selected school), and parents/guardians (typically two people) will be invited to Washington, D.C. to participate in the award ceremony. Transportation and lodging will be provided. The national winner will also receive a national award certificate and a professional print of his/her poster. 
 We would like to invite every 5th grader to enter the poster contest. First, second, and third place winners for this year's statewide competition will receive a certificate and gift card.  See below to download the Poster Contest Packet, which includes contest rules/fact sheet, application, and a flyer you may use to promote the contest.  Please encourage your 5th grade students to participate in this worthwhile national event to promote child safety and reuniting missing children with their families.
Each poster must accompany a completed contest application along with a signed parent/guardian release and consent form (pages 6-8). Please submit all entries to:
Department of the Attorney General
Missing Child Center-Hawaii
235 S. Beretania Street, Suite 401
Honolulu, HI  96813
Deadline for submission is no later than January 31, 2019.  Submitted posters will not be returned to applicants.    
Questions? Please contact Missing Child Center-Hawaii at (808) 586-1449 or email us at HawaiiMissingKids@hawaii.gov
Mahalo for your participation!
2019 Missing Children's Day Poster Contest Announcement
Missing Children's Day Poster Contest Packet
---
Amanda Leonard, MCCH Coordinator, is interviewed by Lyla Berg, host of Island Focus, MCCH segment runs at 17:39-22:40.