Community and Crime Prevention Branch
The Community & Crime Prevention Branch is responsible for the planning and implementation of informational and educational workshops and activities focused on community crime prevention. While criminal justice agencies can respond to crimes, it is the neighborhoods and communities that can help to prevent and reduce crimes. This is facilitated by the Branch providing information and training on how individuals, businesses, agencies/organizations, and communities can get involved.
CRIME PREVENTION CATEGORIES
Identity Theft, Frauds, and Scams
Information on preventing identity theft and fraud.
Internet Safety, Technology, and Devices
How to keep safe when surfing the web.
Substance Abuse Prevention
Tips and strategies to prevent alcohol and drug abuse.
McGruff Cr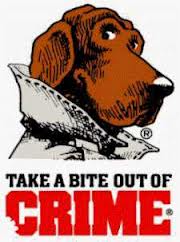 ime Prevention Campaign in Hawaii
 Learn how McGruff helps Hawaii's youngsters
Take A Bite Out of Crime!
It is everyone's responsibility to keep their communities safe.  Newcomers, businesses, schools, and others can learn what they can do to prevent crime in their neighborhoods.
Help For Hawaii's Crime Victims
Also see: Crime Victim Compensation Commission
If you are a victim of crime, the Crime Victim Compensation Commission provides compensation to victims of violent crimes for their crime-related injuries and losses, and to "Good Samaritans" for injuries or property damage suffered in the prevention of a crime or apprehension of a criminal.
Justice System Flow Charts
Want to know how Hawaii's criminal and juvenile justice systems work?