VOCA Bulletin Board for Trainings
CPJAD is providing an electronic bulletin board of trainings for government and nonprofit agencies serving crime victims in the State.  Agencies and individuals are invited to submit training flyers with registration information to [email protected] to be posted on this Training Events Bulletin Board.
---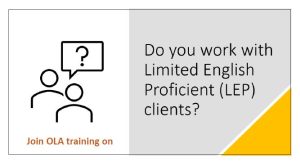 During the month of September, the Office of Language Access is offering statewide language access training on the topic of "How to Work with LEP."
This training is designed for staff who work or may come into direct contact with Limited English Proficient (LEP) clients. It is also suitable for managers or supervisors who oversee the delivery of services to LEP clients.
The training is free, but participants must register.
For dates, locations, and registration details, please click here: https://health.hawaii.gov/ola/language-access-training-working-with-lep-clients/
Click here for a flyer about the training:  Language Access Training – How to Work with LEP Clients
---