Helpful Links
The following links provide additional information that may be useful and is being provided consistent with the intended purpose of the Web site.  However, the Missing Child Center-Hawaii cannot attest to the accuracy of information provided by this link.  Providing links to a non-Missing Child Center-Hawaii Web site does not constitute an endorsement by the Missing Child Center-Hawaii, any of its employees, or sponsors of the site.
National Center for Missing and Exploited Children


www.missingkids.com
As the nation's resource center for child protection, the National Center for Missing and Exploited Children (NCMEC) spearheads national efforts to locate and recover missing children and raises public awareness about ways to prevent child abduction, molestation and sexual exploitation. A private, non-profit organization established in 1984, NCMEC operates under a congressional mandate and works in cooperation with the U.S. Department of Justice's Office of Juvenile Justice an Delinquency Prevention in coordinating the efforts of law enforcement, social service agencies, elected officials, judges, prosecutors, educators, and the public and private sectors to break the cycle of violence that historically has perpetuated these needless crimes against children.
Friends of Missing Child Center – Hawaii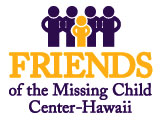 http://www.missingkidshawaii.org
The objective of the Friends of Missing Child Center – Hawaii (MCCH) is to raise funds to support the MCCH programs and other programs for the prevention and recovery of abducted children. When the program began in 1995 the Friends of MCCH funded both the staffing and operation of the MCCH. Presently the State of Hawaii funds the staffing and operation of the Center while the Friends serves to fund programs run by MCCH and others.
National Runaway Switchboard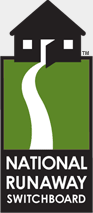 www.nrscrisisline.org
1-800-621-4000
An online resource and 24-hour telephone hotline providing crisis intervention for both youths and their parent/guardians, information and referrals, three-way conference calls and a message relay service. NRS also provides advocacy for youth in need of help to social service and other professional organizations, community education and outreach, and an active online website and resource center.
Amber Alert

www.amberalert.gov
The AMBER Alert Plan, named for 9-year-old Amber Hagerman, is a voluntary partnership between law-enforcement agencies, broadcasters, and transportation agencies to activate an urgent bulletin in the most serious child-abduction cases. Broadcasters use the Emergency Alert System (EAS) to air a description of the abducted child and suspected abductor. This is the same concept used during severe weather emergencies. The goal of an AMBER Alert is to instantly galvanize the entire community to assist in the search for and safe recovery of the child.
Team H.O.P.E. (Help Offering Parents Empowerment)

www.teamhope.org
The mission of Team H.O.P.E. is to assist families with missing children by offering counsel, resources, empowerment and emotional support from a trained volunteer. They are part of NCMEC's Family Advocacy Division, and consist of mothers, fathers, siblings and extended family members who have had, or still have, a cherished missing child, and have demonstrated the ability to turn their own personal tragedies into vital lifelines of support for other families.
National Center for Missing Adults


www.missingadults.org
The National Center for Missing Adults (NCMA) operates as the national clearinghouse for missing adults, providing services and coordination between various government agencies, law enforcement, media and the families of missing adults. NCMA also maintains a national database of missing adults determined to be "endangered" or otherwise at-risk, and serves as a national repository for information accessible to the general public, advocacy groups, law enforcement, medical examiners and coroners.
Project Alert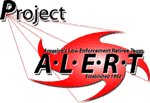 http://www.missingkids.com/missingkids/servlet/ServiceServlet?LanguageCountry=en_US&PageId=180
Implemented and administered by the National Center for Missing and Exploited Children (NCMEC), Project Alert is a resource for law enforcement agencies dealing with missing and exploited child issues which provides multi-level consultation and services at no cost to the agency. Project Alert volunteers average 20 years of law enforcement service from all ranks with federal, state and municipal investigative agencies.
Take Root


www.takeroot.org
Take Root is a support organization made up of adults who were parentally abducted as children. Using their negative experiences to positively assist victims, Take Root members not only provide peer support, but also conducts research and educational outreach, working with mental health professionals who treat parentally abducted children and adults.
Internet Crimes Against Children
www.hicac.com
Hawaii's Attorney General has created a statewide Internet Crimes Against Children (ICAC) Task Force with the help of the U.S. Department of Justice's Office of Juvenile Justice and Delinquency Prevention. The Hawaii ICAC Task Force is part of a cooperative nationwide network of ICAC Task Forces that are dedicated to protecting children in the online environment. In order to accomplish this goal, our ICAC Task Force makes Internet education and safety programs and information available for Hawaii's children, teachers and parents. If prevention efforts fail, Hawaii's ICAC Task Force is ready to vigorously investigate and prosecute persons who victimize children through the use of computers and the Internet.
Salvation Army


www.salvationarmy.org
1-800-698-7728
For a small fee, the Salvation Army provides a family tracing service, whose purpose is to facilitate successful reunions between adult family members with whom contact has been lost for over six months. While they reserve the right to accept or reject applications or to assign priorities to a case for the searching party, privacy will be maintained for those who do not wish to reveal their location. Searches are not done for issues relating to legal matters, inheritance, adoption, genealogy or children under the age of 18.
U.S. Department of State Office of Children's Issues


www.travel.state.gov/family/abduction/abduction_580.html
The U.S. Department of State's Office of Children's Issues is designated to provide assistance and information to the left-behind parents of international parental child abduction. In cases where the Hague Convention on the Civil Aspects of International Child Abduction applies, the U.S. Department of State can assist parents in filing an application with foreign authorities for return of the child. In other cases, through embassies and consulates abroad, may attempt to locate, visit and report on the child's general welfare.