ACTION SUMMARY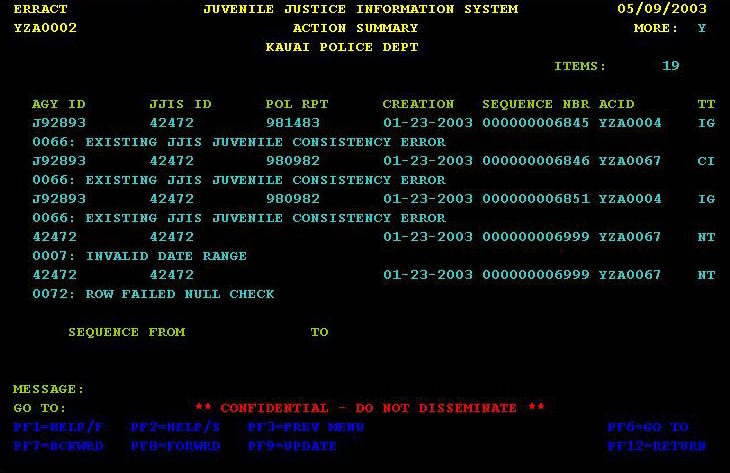 The Action Summary screen provides a listing of all errors that are generated when data from an agency is processed in the JJIS.  The errors are listed with the earliest date of occurrence at the top.  This screen provides the means for these errors to be reviewed and addressed in a manner that leads to their timely resolution.
FUNCTIONALITY
After an error has been resolved, it can be removed from the screen through one of the following three procedures.  To remove a single listed error, enter a "D" in the selection column of the row.  To remove a single SEQUENCE NBR that has multiple errors, enter the SEQUENCE NBR in the SEQUENCE FROM field.  To remove multiple SEQUENCE NBR's , enter the appropriate values into the SEQUENCE FROM and TO fields.  After pressing <PF9> twice, the screen will be refreshed displaying a new list with the selection error(s) removed.
DESCRIPTION OF FIELDS
AGY ID – the juvenile's unique agency identifier.
JJIS ID – the unique identifier for the juvenile in JJIS.
POL RPT – the police report number.
CREATION – the creation date.
SEQUENCE NBR – a unique number identifying the data transaction in JJIS.
ACID – identifies the agency user that entered the data transaction.
TT – an abbreviation of the data transaction type (e.g. CI indicates this error resulted from a charge transaction).
Related Information