ADDRESS AND PHONE DETAIL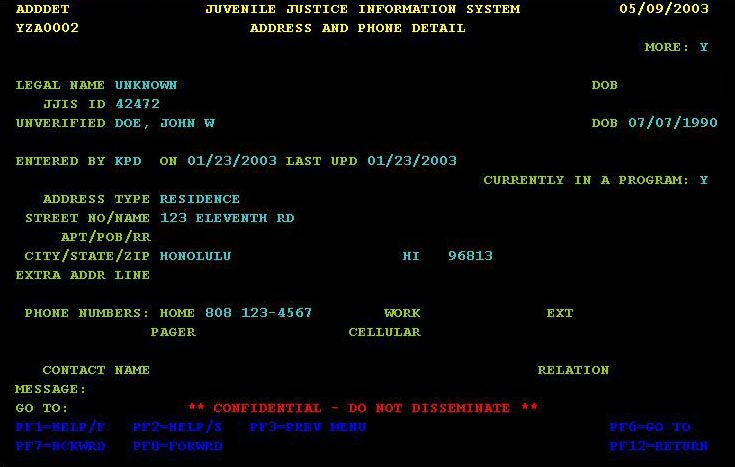 The Address and Phone Detail screen displays information about a juvenile's address and phone number.
DESCRIPTION OF FIELDS
CURRENTLY IN A PROGRAM – an indicator Y or N to indicate whether a juvenile is enrolled in a program.
ADDRESS TYPE – the address type either residence or business.
STREET NO/NAME – the street address for a residence or business.
APT/POB/RR – the apartment number, post office box number, or rural route number.
CITY/STATE/ZIP – the city name, state name, and zip code.
EXTRA ADDR LINE – an optional extra address line.
PHONE NUMBERS –

HOME – the residential phone number.
WORK – the business phone number.
EXT – the business phone extension number.
PAGER – the pager number.
CELLULAR – the cellular phone number.

CONTACT NAME – the name of the person to be contacted in case of an emergency.
RELATION – the relationship to the juvenile such as "mother".  Show me the complete list.