HYCF COMMIT/DISCHARGE SUMMARY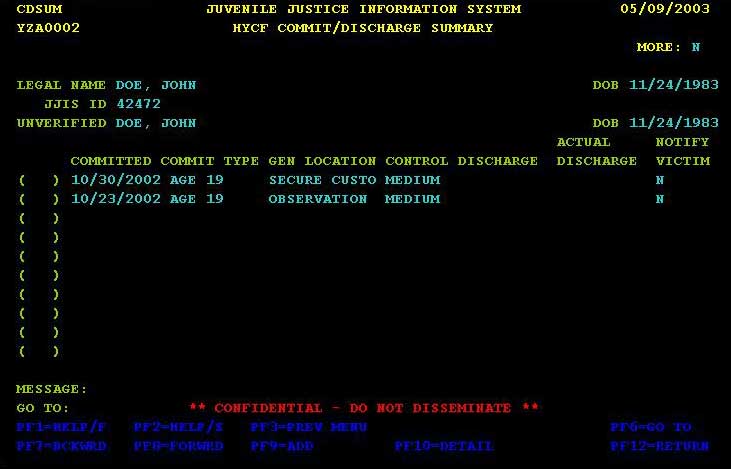 The HYCF Commit/Discharge Summary screen displays a commitment and discharge information that is entered by the Hawaii Youth Correctional Facility for a juvenile.
DESCRIPTION OF FIELDS
COMMITTED – the date the juvenile was committed to the facility.
COMMIT TYPE – the type of commitment, examples are S – Short Term, 19 – To Age 19, 20 – To Age 20, etc.  Show me the complete list.
GEN LOCATION – the general location of the juvenile while under the jurisdiction of the facility.  An example of a general location is YCF – Hawaii Youth Correctional Facility.  Show me the complete list.
CONTROL – the amount of security or control for the juvenile.  Example of Control Type is MIN – Minimum.  Show me the complete list.
DISCHARGE – type of discharge from the facility.  Examples of discharge type are DC – Discharge, FC – Family Court, FU – Furlough, etc.  Show me the complete list.
ACTUAL DISCHARGE – the actual date of discharge.
NOTIFY VICTIM – an indicator to notify the victim upon the release of the juvenile from the facility.