HYCF MOVEMENT OF POPULATION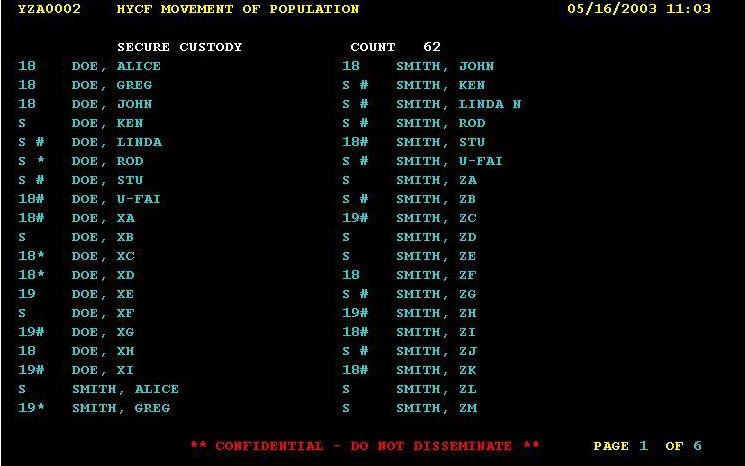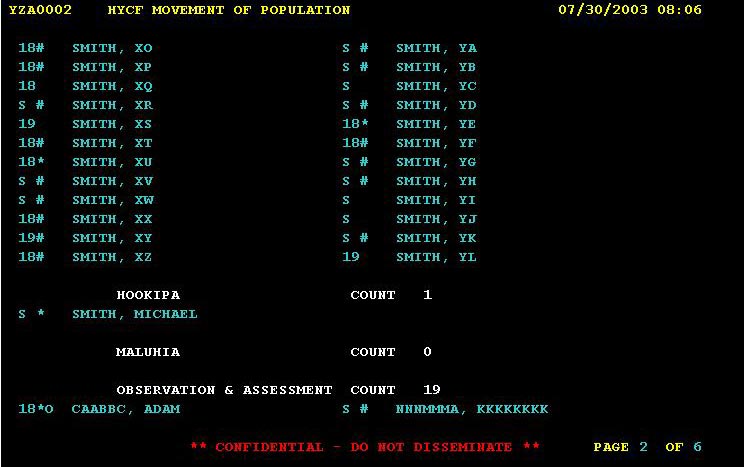 The HYCF Movement of Population screen replaces the report previously distributed by HYCF.  This screen displays the current location of juveniles under the jurisdiction of HYCF.
<PF9> can be used to toggle between a stetwide view of all juveniles under HYCF's jurisdiction and those juvenile committed to HYCF by the user's circuit Family Court.
DESCRIPTION OF THE HEADER LINE
NAME – the location where the juvenile resides.
COUNT – the count of juveniles at this location.
DESCRIPTION OF THE DETAIL LINE
STATUS CODE – the first two characters represent the Commit Type (Short Term, Minority Commitment, commitment to Age 19 or Age 20):

  S – short term
18 – minority commitment
19 – commitment to age 19
20 – commitment to age 20

STATUS CODE – the third character represents the Control Type (Minimum, Close or Medium):

 minimum
*  – close

# – medium

STATUS CODE – the fourth and fifth character represents a specific location:

BB – Bobby Benson
HI – Hilo Interim
HK – Hale Kipa
IC – Interstate Compact
IL – Hale Kipa ILT
KA – Kailana
MH – Maui Youth/Hoomaka
MI – Maui Independent Living
MT – MYFS Therapeutic
O – Other
OC – Oahu Comm Corr Center
P – Parent
SI – Sand Island

TH – Hui Ola
DESCRIPTION OF TOTAL COUNTS
MALE – the count of males at HYCF
             the count of males that are on PAROLE
FEMALE – the count of females at HYCF
                 the count of females that are on PAROLE
TOTAL – the total count of males and females at HYCF
               the total count of males and females that are on PAROLE